Frequently Asked Questions
Tired of the run-around with other event caterers? Hidden fees? Random surcharges? Or gratuity that is enough to be a down payment on a home? Yea…we don't do that. Straight forward pricing, no hidden fees, and awesome food with service to match. Here are some of the normal questions we are asked…
When is payment due?
We require 25% to reserve your date. (non-refundable)
The remaining 75% is due 30 days prior to your event.
We accept payment from all credit cards as well as check and cash.
What is the process to order?
Do you offer cake cutting?
Yes! Our cake cutting service is available for $2.50 per slice.  Price includes disposable cake plates, forks, and cocktail napkins.
Do you provide linens or tables?
No, but we have exclusive Nameless packages through our partner A Classic Party Rental. Ask us about these options!
What types of plates/flatware do you provide?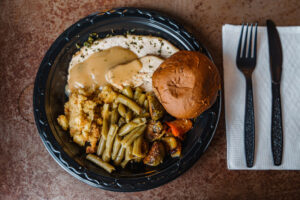 We provide all the basics. All our normal menu packages include matching black or white plastic plates, bowls, forks, knives, spoons, and white paper napkins. Orders with drinks also include our signature plastic Nameless cups.  Ask us about upgraded plates and utensil options!
What types of drinks do you provide? Do you provide alcohol?
 Drinks are a part of each normal Nameless Catering package. All our of normal menu packages include tea, lemonade, and water by the gallon. Ask about adding self serve glass drink dispensers for $50 each (you get to keep them).
Canned sodas and bottled water are available for an additional cost of $1.50 per person.
We do offer bar service by request. Check out our bar options in the wedding tab.
Do you have staff that stay on-site?
We do have staffing partners available to stay on-site during your reception.
Staffing partners are $50 per hour per staff partner with a 3 hour minimum.
Staffing partners keep the serving line clean and restocked.
Staffing partners do not serve from the buffet line.
Staffing partners can buss tables (note will take additional time)
Staffing partners will dress as advised by the client.
When placing your order, Nicci + MacKenzie can help advise on the number of staff needed based on the dynamics of your event.
What types of venues do you cater at?
We cater indoor and outdoor weddings at both commercial venues and residential locations. We can adapt to themed, formal, and casual settings.
How do tastings work?
We offer tastings throughout the year, Click here to learn about and sign up to come try us out.
Do you deliver to my venue?
We deliver to almost all of Indiana… Seriously. Just ask, chances are we go there or we will for you. We do have a delivery fee for weddings that varies based on location. Let us know where we would be delivering and we can get you a price.